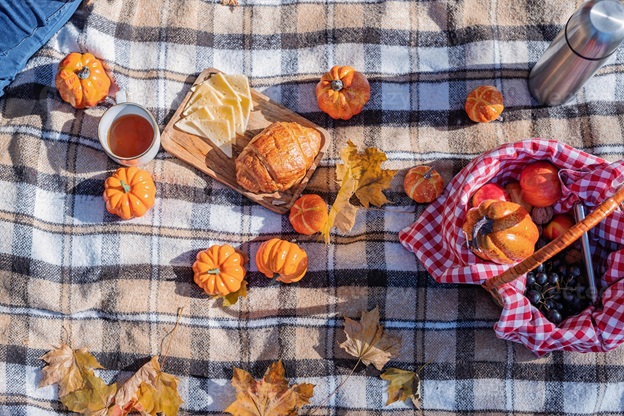 Most people associate picnics with the sunny summer days, floral dresses, and wine spritzers, but the true romantics know that there is no better season to organize a picnic than fall. An autumn picnic can make the ideal date idea, but it can also be a fun way of spending a Sunday together with your friends or family while enjoying delicious food according to https://www.realsimple.com/ . No matter the reason, there are some things that will help you have a great time:
Blanket
Everything starts with the right blanket: the hot sunny days are over and in order to have a good (and safe) picnic, we need to protect ourselves from the cold ground. If you don't want to invest in a special blanket, you can use any thick one that lays around in your home, but if you want to make picnics a tradition, we recommend splurging a bit on a woolen blanket with carrier straps.
Proper clothes
Although autumn is probably the most beautiful season, it is fair to mention that it can get rather cold, especially in the evenings, so you should be properly dressed to keep yourselves warm and toasty. As a man, a knit jumper such as an Irish sweater made of merino wool as the ones presented https://www.tarairishclothing.com/collections/mens-knitwear is the best thing to wear even if it doesn't seem like a cold day. Plus, if it ends up being a freezing evening, you can always give your Irish sweater to your date as a romantic gesture.
Baked goods
It is impossible to imagine an autumnal picnic without any baked cookies, cinnamon rolls, or pies, so make sure to have these freshly prepared for your date or your weekend getaway. There are plenty of easy recipes online that even a toddler could make, our recent favorites being the salted caramel apple pie and the pumpkin cookies with crème cheese filling. If you're not good with cooking but would still like to have some baked goods, order a bento cake.
Thermos
Apart from the food, the beverage is the next most important thing, and what better time to take out your thermos than this beautiful, rainy season. The great thing about these mugs and tumbler cups is that no one sees what you're actually drinking, so it can be cranberry juice, non-alcoholic punch, or even your favorite mulled wine. It can also help set the right mood, as nothing screams autumn more than walking down a park and enjoying the colorful leaves with a hot beverage in your hands.
Umbrella
First of all, you obviously shouldn't plan a picnic if the weather forecast shows that it is going to rain. Secondly, even if it promises to be a warm and sunny day, grab your umbrella no matter what: better safe than sorry. Getting caught in the rain just like in the movies is a very lovey-dovey thing to happen, but catching a cold, especially in the times that we live in right now, should be at the very bottom of your plans for this picnic.