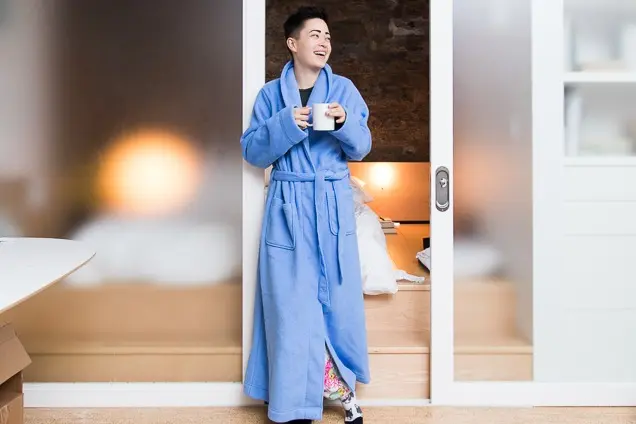 Robes made of pure silk are called kimono robes. They are elegant and feel luxurious,soft and comfortable, breezy, and lightweight. There are many fabrics designed like robes,gowns, long and short night robes,and nighties.
Robes may not be the priority when it comes to the matter of wardrobe but it's most comfortable to wear when at home or after a bath, in the spa, routine wear at night and morning, and in loungewear Itmakes to feel so comfortable. If have the best relaxing cloth for vacation then a robe is the best option.
silk kimono robe are lightweight and air-flowing fabric and antibacterial fabric which provides comfort along with safety. It's suggested by doctors to people who are having sensitive skin.silk robes provide a cool feeling in summer and warm in winter with many functions naturally inbuild intothem.
Silk robes can be worn daily. It is famous for its luxurious and romantic appearance and shines. Because of its easy usage, it has been the favorite dressing robe in recent times and is used in many ways like dressing,bath,lounge, and bridal and night robes.
Best types of kimono robe
The quality of silk is important. While choosing the silk have to look for a good quality silk that can withstand long-term use when used as a bathrobe or any type.it is important to understand how silk can withstand its usage.
kimono robes which are pure
pure silk is nothing but made of matured and domesticatedsilkworms. Pure silk is made naturally so it's very good for sensitive skin. Kimono robes manufactured with pure silk have a shine and make feel the same on both sides of the fabric.
It changes its colour when kept under light and changescolour when sweated. It should be washed with care with mild soap and iron with medium heat or else it can lose its softness.
Silk robes have to be kept in a cool and dry place
Shouldn't wring after washing and spraying on cloth which can cause the stain to remain.
It shouldn'tuse bleach to clean and never expose to direct sunlight for too long
Always check the instruction label before taking up cleaning. Its usually gently hand washed with mild soap
Have to iron the silk cover it with paper and press on it with a low head.
Have to be stored in free air flow bag if have to store for too long