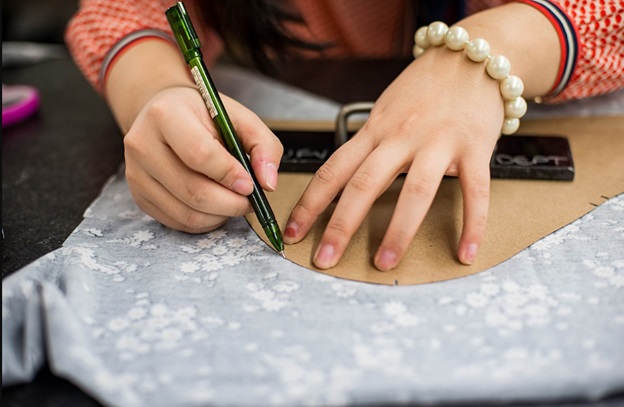 The arrival of sewing machines in NZ in the mid-1850s was a real time saver. Until then, hand sewing was a time-consuming process, but a necessary one. Making your own clothes at home was what you did, with the possible exception of garments for special occasions which were bought at high-end fashion retailers of the time. Because sewing was considered an essential activity in pretty much every home, and wasn't the hobby it is today, sewing machines were in widespread use by the early 1880s. The earliest machines used overseas were powered by a hand-propelled wheel on the side, but by the time they arrived in New Zealand, foot-powered treadles were in use. Electric machines came onto the local market in the 1920s, making sewing even easier.
Another important development in the world of sewing was the emergence of the sewing pattern. There is evidence they date back as far as 1590, but they became a more popular commodity in 1860, when New York publisher William Demorest and his wife Ellen established the home sewing pattern industry. They started off by hosting fashion shows in their homes and selling the patterns, which were made of unprinted paper, cut to shape, and purchased "flat" (folded), or "made up" whereby the pattern pieces were stuck into position to make up for the complete lack of detailed instructions. The Demorests even published a magazine, The Mirror of Fashion, which featured hundreds of different patterns but, to the frustration of some of their customers, were available in only one size.
Others observed the success the Demorest family was enjoying and decided to follow suit. One of those people was Ebenezer Butterick. His company was established in 1863 and was known for one major innovation that the Demorest patterns lacked: every pattern came in a series of standard, graded sizes so it could be tailored to suit the wearer instead of being the one-size-has-to-fit-all model employed by the Demorest company.
In 1866, Butterick began manufacturing patterns for women's fashions before adding a few articles of men's clothing. Both were published in a fashion magazine with patterns originally consisting of unprinted tissue paper which was cut to shape, folded and held together by a pinned label with an image and, later, a few instructions. Envelopes to hold the patterns were introduced in the early 1900s, followed up by  the introduction of a separate instruction sheet from 1910. In the 1940s, two printing presses were specially designed to print markings directly onto the pattern tissue.
It is estimated that Butterick had sold six million patterns by 1871 but they weren't the only huge player in the game at that time. The McCall Pattern Company was established in 1870 by James McCall, a Scottish tailor who immigrated to New York City, which was proving to be the world capital of clothing patterns. McCall's patterns were unprinted until 1919, when they began printing instructions onto the pattern pieces. In the 1920s, some of their patterns had full colour illustrations on their pattern envelopes, while 20% of McCalls fashion magazine was devoted to patterns.
Names like Butterick and McCalls are still famous today but there's nothing old school about the sewing pattern industry in the 21st century. It goes from strength to strength with indie pattern designers re-inventing the humble sewing pattern to a large degree. The best-selling indie patterns go well beyond templates and instructions; they're sewing lessons in their own right featuring photos, videos, and professional tips.
As long as there are sewing machine retailers in New Zealand, there will be sewing patterns and an ever increasing number of people buying them. Home sewing is back in vogue, and patterns will always be in fashion.