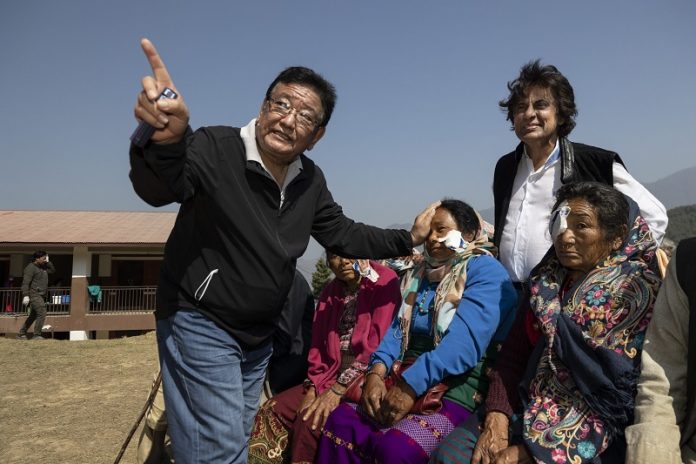 "I rebuilt myself into a big success and I'm determined to use that success to help rebuild others" – Tej Kohli
Life is too short to be the only one to eat from your plate. Life is about sharing, it is about giving life to others as well. Who else would know it better than Tej Kohli? A renowned philanthropist and an entrepreneur who made quite a fortune through his expertise, skills and hard work.
For him, success is hard to earn. But once it is earned, it is a joy to share it with people. All the reasons why he has been changing lives by sharing his thoughts on business, entrepreneurship, AI, investment, and a lot more.
However, despite being an entrepreneur on the outside, he has always been a philanthropist at heart. He has done the extraordinary by giving the needy the most basic, yet the most deprived gift of God – vision.
Together with Dr. Sanduk Ruit, he has given rise to a foundation that dedicates itself to treating cataract blindness. As of 2022, there are almost 14 million cases of blindness worldwide. While some of them are untreatable, most of them are. Those are cases of blindness caused by cataract. Cataract is a condition that can cause vision impairment due to cloudy and blurry eye lenses.
The fact that cataract blindness goes neglected and untreatable is the lack of medical facilities. But even when there's a proper medical infrastructure available, the centre of the problem is the lack of funds.
Therefore, philanthropist Mr. Tej Kohli and Dr. Sanduk Ruit have come together to eliminate cases of cataract blindness, and give the needy people a whole new life.
Here's a brief of the activities that have been conducted by the foundation:
–           The foundation has opened up multiple outreach camps in poverty-stricken third world countries such as India, Nepal, Mynamar, Bangladesh, Indonesia, Bhutan, Myanmar, North Korea, Rwanda, Tanzania, Afghanistan, Lebanon and Syria.
–           These outreach camps have shown promising results in the poor suburbs of Nepal. In 2021, the camps have screened 1387 patients and cured 312 cases of blindness.
–           In April 2021, 178 patients dwelling near the foothills of Mt. Everest in Nepal, were cured of blindness. The same microsurgical camp located in Solukhumbu screened 1,214 patients.
–           Over 407 inmates from the Banke District Prison were screened.
The foundation has also collaborated with various hospitals and medical institutes in Nepal to ensure access of excellent healthcare services to the blind. One of the hospitals is the Tilganga Institute of Ophthalmology. It has successfully completed over 732 surgeries and cured people of blindness. Ramlal Golchha Eye Hospital, another hospital in Nepal has successfully completed over 1659 surgeries. Other hospitals partnered with the foundation include Chhanda (Kalebabu) Narayani Eye Hospital, Fatehbal Eye Hospital, Surkhet Eye Hospital, Shree Janaki Eye Hospital.
With the efforts of Dr Sanduk Ruit, Mr. Tej Kohli and their team, many milestones have been reached. But these milestones are the not the destination. There is a lot more to achieve. It's a journey that the foundation has embarked on.