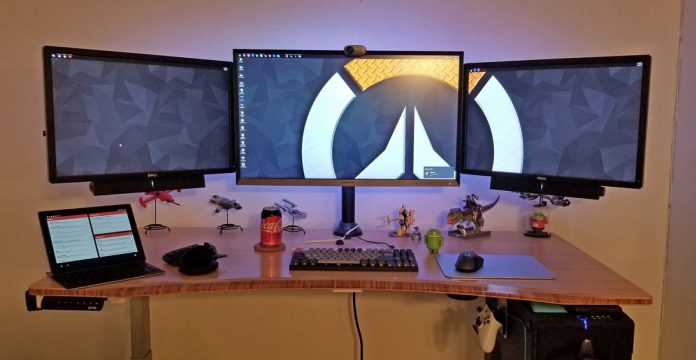 Using moveable desk and wall mounts for monitors is the best thing that you can do in order to avoid neck and joint problems that are a result of bad posture and wrong sitting and standing habits. In fact, even if you have a height adjustable table, it still won't be enough without monitor mounts for a number of reasons like:
You won't be able to tilt the monitor.

You won't be able to rotate/swivel the monitor. 
Which is why what you actually need in order to make sure that you're not harming your body in any way despite long screen hours is a high-quality monitor mount. And this guide will take you through 4 such monitor mounts like the PrimeCables monitor wall mounts that'll pleasantly surprise you. Let's begin! 
Full Motion Dual Monitor Desk Mount
This stunner is one of the best options since it can hold 2 monitors at the same time. Some of its features that are too good to overlook are listed below. 
It can hold monitors between 13-27 inches. 

It swivels by ±90°.

Its tilt angle is ±45°.
Also, it's a 360° rotating mount that can easily hold up-to 8 kgs of weight on each arm. 
Single Monitor Desk Mount Adjustable Articulating Stand
This mount can hold a single LCD up-to 27 inches. Some of its interesting features include the following. 
It can be rotated by 180°. 

It's tilt angle is ±70°.

It can hold upto 8kgs of weight. 
Dual Monitor Free Standing Desk Mount
This dual desk mount is designed to accommodate monitors as well as flat screen TVs. Besides, each of its arms can easily hold a weight upto 22 lbs. For more mounts for your tv monitor, check out FunBiz! Some of its features that you must know about are given below.
It can accommodate screens between 15″ to 30″. 

Both the displays can be easily swiveled by ±60°.

Both the displays can be easily tilted by ±12°.
Besides, this mount can be rotated by full 360°. 
Triple Screen Desktop Mount
This is an excellent screen mount that can hold 3 monitors – upto 25 inches – together. Its interesting features that you must know about are listed below. Have a look! 
The two sided mounts can be swiveled by ±90°.

It can be tilted up/down by -85°/-15°.

It can be rotated by full 360 degrees, clockwise and anticlockwise both. 
These are the 4 monitor and TV mounts that we found to be most practical. However, the variety at PrimeCables is staggering. You can explore their entire range of monitor mounts here, https://www.primecables.ca/c-18876-monitor-desk-mounts.