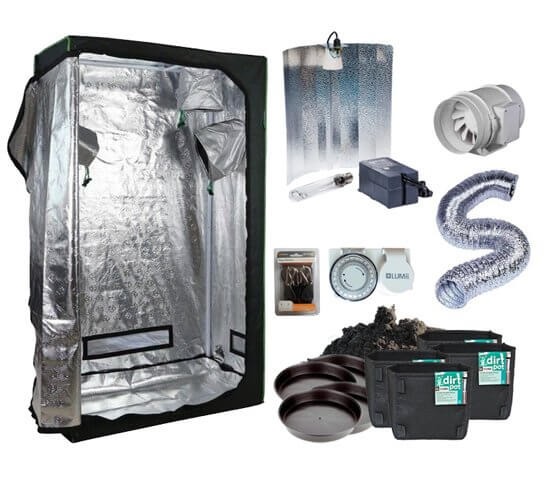 Grow Tent Kits are spaces where we can grow a variety of plants. These complete grow kits come prepared with an interior reflector to better reflect the light, and the extraction ports to include the extractors, these also have bars to hold the Rope ratchets.
Why Use Grow Tent Kits to Grow Plants?
A growing project can be a headache for any grower, whether they're experts or hobbyists. There are climate control problems, infestations, odors, and that means it needs a good space to grow. An easy solution to deal with these types of problems are Grow Tent Kits.
What are the advantages of Grow Tent Kits?
Here we are going to break down the benefits of using indoor Complete Grow Kits.
The Kits and grow tents are ideal for farmers who want to start with the bare essentials without missing anything. You will find different sizes and a wide range of lights ranging from HPS to LED with many different reflectors and styles of ballast the most common now being LED.
As a modern grower, you can reap many benefits from using complete grow kits. These complete grow tent kits are easy to set up and make it easy to grow your plants in the soil and other substrates all year round.
One of the benefits of buying a grow tent kit is that it is compact. Even if you have a small apartment with little storage space, you can install a complete series of indoor grow kits for cultivation.
Another benefit is that no more components have to be purchased. These complete grow tent kits come with everything you need to grow your crops. This includes all electronic components such as indoor grow tent, various types of grow lights with hangers, harvester and charcoal filters, other nutritional requirements for plants, and filter combination kits.
Simple and easy: One of the best things about Complete grow kits is that they are easy to set up and maintain.
Features of indoor grow kits
Discover the complete grow room kits here, so you can get your plantation done using everything you need. Your work area will be isolated from the outdoors, the light needed to mimic the sun and clean air for your plants. You'll be able to choose between various quality tents, lighting components, and power options depending on the kit.
In one of the best-selling Complete grow kits you will also have the required air extraction system, the heat leaving your grow space to let in the fresh air; an anti-odor filter that will take care of evacuating and treating the odors given off by your plantation; a timer to turn your lights on and off; the pulleys to hang your lamp; a Thermo-hygrometer to find out the temperature and humidity; and finally, the necessary pots and seeds!
How to choose the most appropriate indoor grow kit with a closet for you?
Everything will depend on whether you are going to grow for yourself, if you are going to live with more people who consume regularly or if you want to guarantee a harvest that lasts several months. The differences between some indoor grow kits with a closet and others are fundamentally marked by size and by the degree of control you want to have over the entire process.